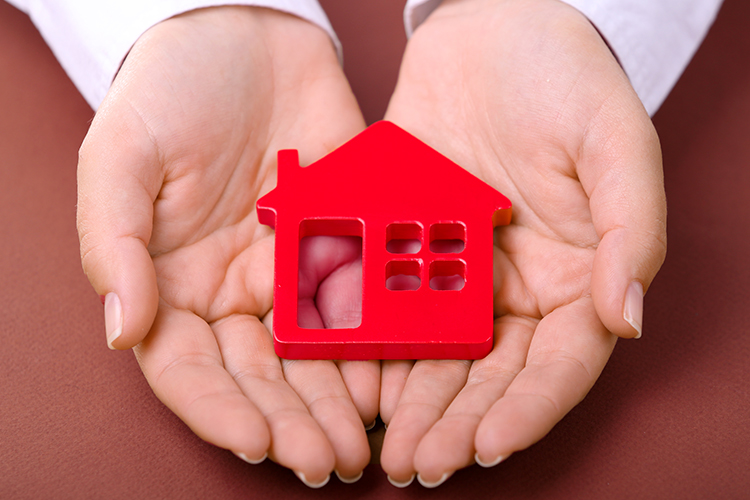 By Blog Coordinator Meghan Randolph with Communications Assistant Sarah Kruse
My parents recently left their garage door open by accident. They are neat freaks (unlike their daughter) and so there was nothing to take in the cars, but the thief rifled through and took some random things from the glove compartments. My parents live in a very quiet neighborhood, so this incident left them surprised and angry at themselves for making a mistake, but they were extremely grateful they hadn't left anything of value in the car. My parents' recent experience serves as a good reminder to all of us about being careful and prepared – inside and outside our homes. National Home Safety Month gives us all the opportunity to review hazards inside and outside our homes, while also reviewing our preparedness for unexpected events.
Checking Your Home
Take a walk around your home with a fresh eye to safety.  If you'd like some assistance, a number of SAIL vendors are available to help.  Call the SAIL office at 230-4321 for suggestions.
Working smoke alarms, with fresh batteries, should be located in each bedroom, outside of each sleeping area and every level of the home. Test your smoke alarms each month.
Check electrical cords for any frays or if they exhibit any warmth. If so, unplug them immediately.
Cover all unused outlets with safety plugs.
Have grab bars or railings installed on stairways and in bathrooms.
Consider planting thorny bushes (i.e., rose bushes) under ground-floor windows.
Use childproof locks on any cabinets that contain cleaning supplies, soaps or medicines.
Keep all exposed hot water pipes covered.
Keep walkways clear of any clutter, especially throw rugs that can pose as a slip hazard.
Have fire extinguishers on every floor of the house.
Make sure your house number is clearly marked on your mailbox and on your house so it can easily be seen.
Make sure all televisions, stereos and computers on a sturdy stand that is not easily tipped.
Consider subscribing with an emergency falls program, like VRI, to have a way to alert someone if you experience a fall or another health emergency.
Be sure you have a File of Life on your refrigerator and make sure to update it every six months. The File of Life is an easy way to ensure that medical personnel have a quick record of your medical history, medical conditions and medications in the event you are unable to provide it yourself. For more information, contact SAIL.
Emergency Preparedness
It is also important to be prepared for emergencies that may require you to leave your home quickly or to shelter at home with no power or possibly no access to phone service. The most important part of emergency preparedness is to have a plan! Where will you go if you have to leave? How will your family or emergency contact get in touch with you?
SAIL offers members a Go Bag that includes important supplies should you need to make a quick escape. Take a look at the bag this month to restock any supplies that may have been depleted.
SAIL members also developed an Emergency Preparedness Guide to assist you in assembling useful supplies to have on hand and phone numbers for critical resources. Request a copy from the SAIL office.
Preventing Property Crime
In past years, SAIL has been able to offer an in-person workshop with Madison Police Department resource officers to remind us of ways to secure our home and property. We thank them for providing information to share with you this year. Simple steps can be taken to prevent property crime. The recommendations from the MPD are: 
Lock it: Keep car doors and house doors locked, even if you're just stepping out for a moment.
Light it: Leave an exterior light on at your residence or use motion detecting lights.
Hide it: Keep all valuables out of sight.
Remove it: Removing valuables from your car and garage is an extra-smart way to keep them safe.
Close it: Double check that garage doors are closed and exterior doors are locked.
Report it: Report break-ins and theft to the non-emergency police line at 608-255-2345.
Another common tip is to keep your car keys next to you while you sleep—if you hear any suspicious noises in the middle of the night, you can turn on the alarm on your car to scare away any intruders.
Additional resources
Here are some flyers you can download and print at home, or keep handy on your computer. Working together, we can all stay safe!
If you need assistance with safety precautions or have any questions, SAIL is here for you! Call us at 608-230-4321 or email info@sailtoday.org.
Senior Safety Tips
Home Security Checklist
Property Crime Prevention
Madison Police Department Non-Emergency Dispatch: 608-255-2345
Thank you to the MPD for sharing resources!